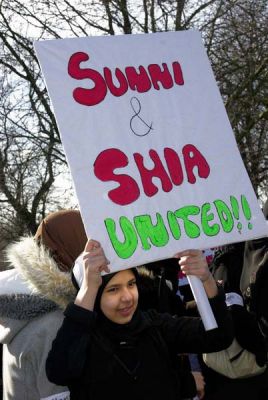 Why not? Exactly.
(I know this isn't a topic that is usually spoken about, at least not publicly, but this is my blog and what I'm writing today is not being written with the intent to hurt, offend or marginalize anyone. I'm trying out this "honest" approach to writing, and if I can educate or help someone out in the process, then cool. If not, I hope we can agree to disagree with respect and peace.)
Recently, I've been at a writing standstill of sorts. What generally happens is that I'll hear or read about something I find to be relevant to Kuwait, and then I'll want to blog about it. Sounds simple, right? WRONG. Every time I try to sit down and come up with something that is cohesive, poignant and informative, I fall terribly short. One of the primary reasons for this goes back to my fluency (or lack thereof) in Arabic. Long story short, I'm lacking in resources that I can actually use, and it's frustrating to say the least.
So, since I can't blog about some of these more "relevant" topics from a purely factual point (to which I would then add my educated opinion on the matter), I've decided I'll try something new, something a bit more... vulnerable? I'm not entirely sure if that last word is an accurate description of this new angle I'm going for, but we'll see. My new approach will see me discussing my interpretation of current topics, how I've come across them and what they are to me. Simple? I hope so.
Today's topic has to do with something I regrettably felt while reading a fellow blogger's post about recent events that occurred in Kuwait. The post was lengthy, but written very well, so I was engrossed, to say the least. Towards the end of the post, there was mention of Shi'ite MPs, and the blogger discussed some of this sect's history and what not. It wasn't a major component of article, but it was there. It was enough, as they say. Enough to... irritate me.
I don't have words that can describe how disgusted I am with myself as I write this... For no apparent reason, and certainly without good cause, I slowly but surely began to feel a small bubble of animosity rise in me as I read the few sentences that mentioned Shi'ites. I was caught off guard; growing up, my parents never instilled any "We are Sunna, they are Shi'ite" mentality in me. In fact, religion was rarely ever brought up, apart from the standard basics: prayer, Ramadan, reading from the Quran on Fridays.... that was pretty much it. Both my parents are medical professionals; neutrality is the name of their game. That got me thinking: if these feelings of hostility weren't got from my background or upbringing, then where did they come from? I just found it so surprising that I, The Expatess, a politically correct Canadian (It's what we're famous for) with agnostic tendencies had these feelings within her. The worst part was that they came up without any real cause. Just the mention of the "other sect" of Islam was enough to stir up these very alarming emotions. I was, and still am, dissappointed in myself for that momentary (albeit subconscious?) loathing. A strong word, but I'm trying to be honest here in hopes I'm raising awareness about prejudice most of us don't realize we have. From the reflection I've done on the matter, I believe that while it's not explicitly said out loud, there is enough of a whisper about Shi'ites in the Sunna communities to be heard. While it won't affect daily interactions or (hopefully) friendships and relationships, I worry about its effect on a macroscopic level. Were I any less of a person, I would have possibly embraced this silly hatred. Then someday, when I've grown up and found myself in a position of power, my subconcious bias WILL affect decisions I make, decisions that could affect many people. Decisions that could harm many people, for no reason other than their beliefs. My subconscious could easily override my conscience, and crimes against humanity could occur. This is how injustice is bred; slowly, surely and quietly.
It's a scary thought.
Wondering if you can hear her now,
S.
PS - The floor is yours, I'd love for some feedback on this from anyone and everyone.
PPS - On a lighter note, my Mom thinks I wrote this post because I have a crush on a Shi'ite guy. Mothers... :p